About "God of Grace and God of Glory"
Genre: Instrumental arrangement
Music by John Hughes (1907)
Arrangement by Bronwyn Edwards (2019)
This was one of my father's favorite hymns and it was sung at his Memorial in 2012 by a very Welsh-sounding male quartet.
When my friend LeeAnne asked me to arrange it for two flutes, she didn't have to ask me twice. This is a much loved hymn tune, and I have arranged it for two flutes or other C instruments and piano.
The audio recording features Chris Kindem on flute and Bronwyn Edwards on piano

Available for download in PDF format at www.JWPepper.com

Download pages 1-3 by clicking on the music image below.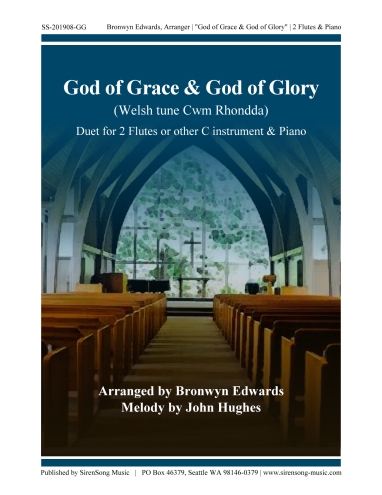 Complete score (5 pages) available at www.jwpepper.com