About "The Shepherds Farewell"
To celebrate the 2016 Holiday Season, a friend sent me one of those
on-line Christmas greetings of a seaside village, filled with curiosities and games to play by clicking on different parts of the scene. One of about four background pieces of music was "The Shepherds Farewell" by Hector Berlioz. I had never heard it before, but I was enchanted by its harmonies. I located a score in the public domain and re-arranged the vocal parts for SSAA, women's voices.
You may download this arrangement and use freely. Please credit the composer (Hector Berlioz) and the arranger (Bronwyn Edwards).
Notes:
The "Ah!" section at the beginning also divides the verses. The "Ah's" could also be repeated at the end, although the score does not include them.
The demo recording (center column) is the first verse only, as the other two verses are the same as the first.
SS-201612-TSF-SSAA
For SSAA women's voices, A CAPPELLA
Performed by:
Fauntleroy Women's Ensemble
Lyrics
by Hector Berlioz

Thou must leave thy lowly dwelling, the humble crib, the stable bare.
Babe, all mortal babes excelling, content our earthly lot to share.
Loving father, loving mother, shelter thee with tender care!

Blessed Jesus, we implore thee with humble love and holy fear,
In the land that lies before thee, forget not us who linger here!
May the shepherds, lowly calling, ever to they heart be dear!
Blest are ye beyond all measure, thou happy father, mother mild!
Guard ye well your heav'nly treasure, the Prince of Peace, the Holy Child!
Go, go with you, God protect you, guide you safely through the wild!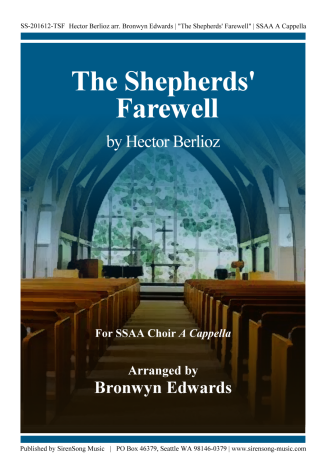 Comments: