About "Christmas Boats"
Seattle's unique Christmas Ship festival has been an annual holiday tradition since 1949. Each year, the Christmas Ship is decked out with lights, passengers and music, and cruises Seattle's waterways accompanied by a flotilla of small boats, also decorated with lights. On board the big ship, choirs perform holiday favorites each night, the music amplified out over the water to delight listeners aboard the small boats cruising in close proximity, and the crowds gathered on the shore. Seattle composer Bronwyn Edwards shares her own experience, weaving the sounds and imagery of the boats with the familiar melodies of carols.Christmas Boats is available in SATB and SSAA settings, and has been performed by the South Seattle College Community choir, for whom it was originally composed, as well as the Fauntleroy Chancel Choir, and Holy Names Girls Choir.
The song is secular, with snippets of beloved Christmas carols woven into the harmonies.
Available for SATB and SSAA.
SS-201511-TPNWC1-SATB
For SATB and piano
Lyrics and music by Bronwyn Edwards
SS-201511-TPNWC1-SSAA
For SSAA and piano
Lyrics and music by Bronwyn Edwards
Listen to recording by Holy Names Academy, Seattle 2009. The tempo is much faster but it really floats! Rafe Wadleigh, director.
Performed by:
South Seattle College Community Choir
Fauntleroy Chancel Choir
Holy Names Choir
SeaFirst Chorale, performed at the Leavenworth Tree-Lighting Ceremony
Lyrics
by Bronwyn Edwards
Christmas boats are floating gently on silent waves
Lights ablaze... festive faces rejoice with carols on Christmas boats.
(Angels from the realms of glory...)
Colored lights that shimmer softly on tranquil lakes,
Music makes... harmony of song and sea on Christmas boats.
(Deck the halls with boughs of holly...)
Night wraps its cloak around them (voices fill the cold night air),
Shimmering lights reflecting from Christmas boats.
(O come, all ye faithful...)
Light dances all around them (Hark! the herald angels sing)
Celebration flowing from Christmas boats.
(O little town of Bethlehem...)
Christmas boats are floating,

Christmas boats afloat.

Available at JW Pepper.com as printed score or digital download
SATB version | SSAA version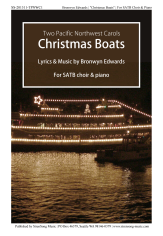 View partial score (SATB) (pages 1-4) in PDF format
View partial score (SSAA) (pages 1-4) in PDF format
Comments: