About "Christmas Boats"
The companion piece to "Christmas Boats," this song describes a sunny but bitterly cold Christmas Day spent walking along the beach, rugged up in warm winter clothes.
SS-201810-TPNWC2-SATB
For SATB and piano
Lyrics by Florence Clayton, and music by Bronwyn Edwards
Performed by:
South Seattle College Community Choir
Cascadian Chorale
Lyrics
by Florence Clayton
Bitter cold, whistling winds, it's Christmas on the beach.
Brilliant sunshine, gleaming sand
Where the frosty sand and waters meet.
Heavy hoarfrost on the shore, it's Christmas on the beach.
And the birds make their small tracks not silently.
We can listen in the wind to their faint and scratchy sounds like pencils on paper, where is Christmas?
Splashing waves, shining foam, rising spray, shooting high,
Flooding scenes of changing colors,
Flashing colors on the beach.
Christmas, there is Christmas.
We are warmed by winter clothes
As we walk along the shore.
Christmas sounds seldom heard
On a Northwest seashore.
Crunching sand under our feet
Like a crisp white winter snow.
A clear and sparkling Christmas Day but bitter cold.
This is Christmas!

Available at JW Pepper.com as printed score or digital download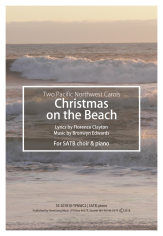 View partial score (SATB) (pages 1-4) in PDF format
Comments: