About "O, Autumn"
Commissioned by the South Seattle College Community Choir, "O, Autumn" is part of a song cycle about the seasons, with lyrics by AnnMarie Clayton and music by Bronwyn Edwards.
SS-201509-SA-05
For SATB and piano
Lyrics by AnnMarie Clayton, Music by Bronwyn Edwards
Performed by:
South Seattle College Community Choir
Lyrics
(by AnnMarie Clayton)
O, Autumn, cease thy slow, sad dirge of days!
You will not stay, but must forever go on changing,
O season, stop your restless, patterned steps
And still my heart that seeks to go a-ranging.
Stay, I must, while you dance on and leave me,
O Autumn, rest! And cease thy dance unchanging!

Available at JW Pepper.com as printed score or digital download

Available at www.musicaneo.com as digital download.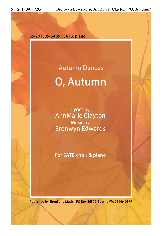 View partial score (pages 1-3) in PDF format
Comments: