About "Quintessence"
In 2010 I was commissioned to write the music for "Age Only Matters If You're Cheese," a musical comedy by West Seattle playwright Yvonne Belshaw. It's the story of two people who had been romantically involved back in their college days, had gone their separate ways in life, and find themselves attending their 50th college reunion and falling in love all over again. Besides composing the music for "Cheese" (as we all fondly called it), I wrote a couple of additional songs and lyrics to round out the story. Finally, I found myself directing the production. With a very talented local cast, we put on an energetic and spirited performance with sold-out audiences for every show. "Cheese" was such a great experience for me and I grew in so many ways as a writer, director and musician.
Earlier this year, I reworked my simpler stage version of "Quintessence" into a fuller SATB version for my South Seattle College Community Choir. Although originally scored for SATB and violin which gives the song a truly passionate feel, my College Choir was accompanied by a flute (which you will hear in the recording). The flute was just as beautiful, and so haunting.
Many people tell me this song reminds them of Harry Potter movie music. It does have some interesting, almost creepy, harmonies that give it an ethereal quality. Much of the song is in unison, so choirs can work on coloring their tone in the unison passages.
Aside from the music, I really love Yvonne Belshaw's poignant lyrics. This song was a true collaboration of creative spirits, and I am so happy to be finally publishing "Quintessence." Enjoy!
SS-201704-AOMIYC-09
For SATB, violin and piano
Lyrics by Yvonne Belshaw
Music by Bronwyn Edwards
Level of difficulty: Easy-Medium
Performed by:
Originally performed in the musical "Age Only Matters If You're Cheese" by the cast at Fauntleroy Church, UCC in 2010.
Performed by the South Seattle College Community Choir in Spring, 2017.
Lyrics
by Yvonne Belshaw
See beauty in the barren hills, majesty in the mountains.
Solace in the starry night, waterfalls and fountains.
Find energy in waters wild, serenity in still seas.
Appreciate the artistry of bright flowers and lofty trees.
Listen to the songs of birds, hear the music in the leaves.
Search out the songs of life in nature's symphonies.
Lessons we have learned from the past, apply them to the present.
Enjoy the loveliness of life, strive for quintessence.
Open the windows of your mind, seek the highest goal.
Look within your quiet self, find fulfilment in your soul.

Available at www.jwpepper.com as printed copies or digital download.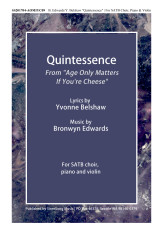 View partial score (pages 1-6) in PDF format
Comments: