About "The Promise"
The Wonder Cantata was composed in 2011 and performed by the Chancel Choir, Fauntleroy Church UCC at the choir's Christmas concert. The lyrics for the Cantata were developed by composer Bronwyn Edwards (Music Director at Fauntleroy Church) after a conversation about the wonder of Christmas with the Senior Pastor at Fauntleroy Church, Reverend David Kratz and chorister Greg Dirks.
Following are Reverend Kratz's reflections, which inspired the third song of the Cantata, entitled "The Promise."
This Christmas season, we experience the wonder of the prophecy fulfilled. We summon our faith to believe that it's all true: a Prince of Peace, born to usher in a reign of peace, justice and caring for one another, and of healing. There is wonder in that these promises are still alive today after all these years! Our yearning is a reflection of God's promise. We anticipate the wonder of finding our lives sustained and surprised by God's presence.
These reflections were part of the performance, helping the listener to better understand the concepts behind the music.
"Peace, justice, healing and caring for each other -- the Promise, God's promise, still living." These lyrics form the SATB chorus part of "The Promise" with Baritone and Mezzo-Soprano soloists telling the story of the wonder of God's promise at Christmas. Two flutes add a descant, suggesting the refrain from the Christmas melody of "Angels We Have Heard on High" at the very conclusion of the piece. "The Promise" is the third piece in the Wonder Cantata, celebrating the wonder of the Christmas season.
If you would like access to my recorded parts, please contact me by email and write "recorded parts" in the subject line.
SS-201710-WC03
For SATB, piano, 2 flutes (or other C instruments) and 2 soprano soloists
Music and lyrics by Bronwyn Edwards

THE WONDER CANTATA
Lyrics
by Bronwyn Edwards
Solo
The prophecy has happened. We summon our belief.
Love and healing come to us through Jesus, Prince of Peace
Now we feel the wonder that the promise survives
Now we feel the wonder of finding our lives
Sustained by God's presence -- sustained and surprised.
Choral chant
Peace, justice, healing, and caring for each other.
The promise -- God's promise -- still living!

Available at www.jwpepper.com
as printed copies or digital download.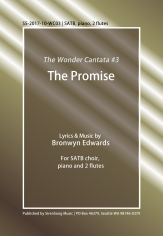 Partial download: "The Promise"
(cover + 5 pages) in PDF format
Comments: